I'm not really sure how all this "blog friends" business works, but I like making friends. I especially like making friends with people who aren't going to drop by and judge my domesticness, or lack there of, and yes, I did make up the word domesticness- don't hate. Anyhoo, it involves making new friends and searching for celebrity hotties on photobucket, so I'm definitely on board! Andrea at My Chihuahua Bites is hosting Making Friends Monday today, and I made sure that her chihuahua doesn't really bite. I also had to spell that 15 times before I got even close to something that Firefox would recognize as a word.

Her question for this week is: Who are your top five celebrity crushes? What celebrities make you drool?


In no particular order...




Channing Tatum! His new movie is Fighting, and Mr. Wright wants to see it for all those fighting parts. I just want to look at him. Mr. Wright laughed when I quickly agreed to accompany him to a violent fighting movie.






Ben Affleck 10 years ago! He is one of the few teenage crushes that still somewhat holds up. He's okay now, but better then.






Josh Duhamel! (Firefox couldn't help me spell that unfortunately!) I like tall pretty boys, so he sure fits the bill! On a side note I stole the Ben and Josh pics from the same user on photobucket. Maybe she wants to be my friend!




George Stults! I'm not sure if he's extra appealing because he was such a nice character on 7th Heaven or just because he's so hot, but I'll take him either way!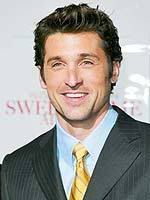 Clean shaven Patrick Dempsey! I'm not lovin' the full beard and grumpy demeanor of his character on Grey's, so I'm picking Sweet Home Alabama Patrick instead!

Whew... that took a lot out of me! Uh oh! Blood! Gotta go!

Ok, I'm back! Just a nosebleed from Sweetie Pie. Onto the felt food! I've spent the whole weekend making the little picnic basket to hold the felt food for Caitlin's Fundraiser. I finally finished it last night and couldn't be more pleased! Now I just have to get the rest of the food done. I know my family is really hoping that I'm going to make some REAL food soon. I'll think about it...




Ugg, Little Man just got hit in the head with a block. If we don't make a trip to the ER today I'll be thankful!