I've been SOOOOO busy and I have so much going on at once that I just haven't had time to even play Facebook games! I'm not sure if it's related or not but I did see this when I logged onto Yahoo today:




Coincidence!?

It's good to know that Farm Town, Social City and Restaurant City are missing me as much as I miss them! I have gotten a few things done off my never ending to do list though. I finally got the play room TOTALLY clean, and have checked it every hour since then to make sure it stays clean. I got 8 2-liter soda bottles cleaned out and filled with emergency water. I almost kept up with the laundry and I have been relatively keeping up with the dishes. Oh, and I threw a tiny party for Boo's 3rd birthday.

Now that I type it out it seems pretty pathetic for a whole week's worth of stuff, but I felt like I've been trying hard. I'm going to link this post up to a whole bunch of stuff to hopefully get some new readers and re-inspire me to get off my butt and get blogging again. I have easily 15 posts in my head that I need to get written but just haven't had the motivation. Soooo, welcome if you haven't been here before, and look forward to some new posts if you're a regular reader!

I'm going for a record of participating in the most blog carnivals in one day EVER, lol!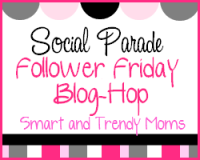 Thanks for stopping by!